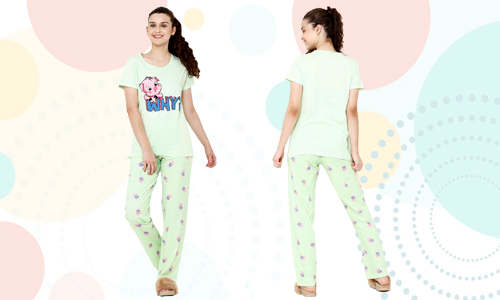 After finishing the day's tasks, the first thing we think about when we get home is cuddling in bed. We frequently let the monsoon laziness take its toll on us and fail to consider what to wear before going to bed, which isn't always a good thing.
Nightwear is just as essential as what you wear to work, out on the town, or date nights. After all, what could be better than a good night's sleep? That being said, it's past time you paid as much care to your pajamas as you did to your other clothes.
Determine the Fabric:
Choosing the proper fabric is the first step in decoding monsoon dressing; otherwise, the post-rain humidity will ruin the ambiance. Experts advise choosing something that isn't highly sheer but light on the skin.
When it comes to monsoon nightwear, there are a variety of fabrics to choose from. It is entirely up to you to decide which material is best comfortable for you. Satin nightsuits, for example, should be your first choice if you prefer a silky smooth sensation. On the other hand, Cotton-enhanced nightsuits would be the appropriate choice for you if you like comfort and breathability.
Choose According to Your Taste:
While comfort is essential, you should not overlook style. Choose designs and patterns that complement your individuality when it comes to monsoon nightwear. Make sure you select something simple since wearing loud nightwear is not a smart idea. You should also avoid using too much print and stick to softer colors. The lighter your nightsuit, the calmer and more peaceful you will feel.
Choose the Right Silhouette:
Fitted clothing is a no-no when it comes to nightwear. Always choose baggy nightsuits that enable you to move freely and do not constrain you in any way. They shouldn't cling to your body and bother you, so make sure your sleep shirts and pajamas have a straight silhouette. You wouldn't have to twist or turn around while sleeping this way. You may also go up a size to boost the degree of comfort since sizing up is never a bad idea when it comes to sleepwear.
Related Product
Don't Go Overboard With the Details:
Avoid wearing nightsuits with many details since they should be the most relaxed garment of the day. So that you don't get disturbed when sleeping, they should contain minimum or no details. Unless you want to charm your partner, avoid extraneous embellishments like giant buttons or lace fabric, and opt for something that blends readily with the cloth, such as modest press buttons or slip-on.
Consider the Climate:
Another critical factor is to assess the forecast and make an informed decision. Purchase a short night suit if there are dry, humid days in the way. After all, the lighter your nightclothes are, the better they should feel on your skin. To stay warm in the winter, you may wear long night suits, pajamas, or hoodies.
We hope that the tips listed above assist you in selecting the perfect monsoon nightwear that is both stylish and comfy. When you buy nightwear online, you will have many options in terms of pattern, color, and style. So choose the best option for yourself.