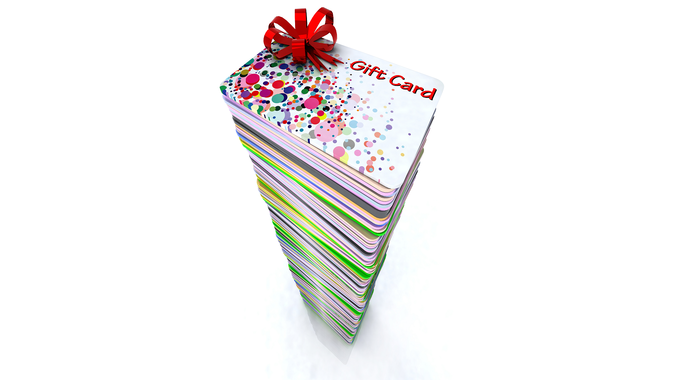 Today's advancement of technology has paved the way for countless business innovations both in the operational and marketing aspect. As with the latter, creation and proliferation of gift cards is no longer a surprise.
Nowadays, a lot of people see gift cards as a great gift alternative because of a number of reasons.
Receivers love it because…
It avoids disappointment on their part because they get to personally pick the item that they truly want or they have the option to save the gift card and use it for the rainy days.
Handy; it is very lightweight to carry that a short postponement of using it will not be a hassle or a matter of inconvenience.
Today, some states require retail stores to offer refund for unused gift cards regardless of their validity status.
During special occasions where promotional discounts are widely offered, the receivers can get to own an item that is originally priced more than the gift card's value without having to pay for the excess.
Gift cards can also provide an experience as cinemas, restaurants, hotels, or sports events also produce and sell them.
Many websites nowadays offer a convenient platform where receivers can sell gift cards online and enjoy the fast cash payout.
Meanwhile, givers love gift cards because of the following reasons:
Gift cards are a fast and easy gift choice.
With gift cards, the likelihood of picking a wrong gift that the receiver will not like or will not be able to use is significantly lessened.
They are widely available. Almost all famous brands are selling gift cards to gain a competitive advantage.
Shipping gift cards cost way cheaper when compared to shipping actual gift items. A lot of retail stores today also honor digital copies of the gift cards be it in the form of screenshot, or through e-mail. In this case, the retail store will only require the showing of the electronic copy and scan the code provided before proceeding. This means that giving gifts to loved ones away from home can bear minimal to no cost at all.
However, opting for gift cards can be disappointing and stressful at some instances, e.g. you hoarded gift cards for future purposes only to find out that the item you've been eyeing to have is no longer available on your actual purchase. Other constraints like the validity period, location, and time availability are also potential hindrances that can leave many cards unused or worse, forfeited.
The good news is, there still are a number of ways to make the most of your unused gift cards before they end up being a loss on your part and a gain on the issuer's. Below are how:
Sell gift cards online.
As per the board chairman of Retail Gift Card Association, fairly frequently, givers of gift cards will likely disappoint but in case they do, especially on the choice of retail store, receivers need not frown and worry as they can always donate or sell gift cards online for better options.
Also, in this digital age, a convenient solution to dispose unused gift cards for cash is now available; thanks to gift card exchange sites. What they do is host the barter of gift cards, i.e. owners can submit their unused gift cards for a quote of up to 90% of the card's value and once an interested gift card seeker buys it, the gift card site will automatically forward the promised revenue to the owner. However, as not all sites are worth the trust, before you proceed with a transaction, make sure you have already read the terms of the site. Go through the post-purchase guarantee. This will help you ensure that the site you are transacting with is not a scam. Or better yet, take advantage of your internet connection and google away feedbacks and reviews about a particular gift card exchange site you've long considered. More often than not, reviews are legit; they do not lie.
Trade your gift cards.
While it is truly understandable to let the opportunity from online swapping pass because you are skeptical about it, if you don't seek for other solutions, you're still in for a loss. Don't let this happen; trade your gift cards at retail stores instead. Although they are rare to find, the possibility of you finding one that offers trade-in programs that let gift card owners trade their unwanted gift cards still exists.
Luckily, there are also stores that allow trading of gift cards as a revenue-generating stunt. They usually accept gift cards issued from over a hundred retail stores and make you a monetary or gift card offer in return. However, in this case, the turnout percentage is likely less than that when you sell your gift cards online.
Gift your gift cards.
If your original giver permits, you can opt to gift your unused gift cards to the needy instead. Nothing feels better than knowing you have made other people happy and you can actually reach for that reason to feel gratified by giving your gift cards to somebody else especially during the Christmas season.
Use them anyway but as much as possible, do not overspend.
In using your gift card, small savings are always better than having to spend. Records from a particular retail store showed that around 75% of the consumers who used their gift cards ended up spending around $40 more than the face value of their cards. It's true; situations like it can be downright tempting. If you can afford, then good but it is never a wise choice especially if you are trying to save. It's always best to just retain your focus and keep the change from underspending that having to take some bills out of your wallet to pay for the excess.
Also, the moment you receive one, as much as possible, do not place them somewhere you will most likely forget, e.g. drawers, cabinets, bag pockets. Lastly, it won't hurt to use them with some sense of urgency. After all, they are a gift that is meant to be appreciated.