Very few men in the country understand the true essence behind the need of dressing up on special occasions. It is surprising when a man takes a conscious effort to select his outfit personally. They often stick to their regular choice and are sceptical when it comes to experimenting or trying something that is out of their comfort zone. Talking specifically about Indian wear, who knows it better than women, how men look extremely impressive when they know exactly what suits them the most and are able to add their own touch to the look. The younger generation is now moving over bandhgala and sherwani which were extensively worn earlier. Instead they now like to mix up their modern style with the otherwise regular ethnic wear.
Hyderabadi Kurta Pajama
The most classic attire for men has been the Hyderabadi kurta pajama. The kurta has thread work around the collar. The outfit is suitable for casual occasions such as a day out with friends or if you are travelling, this combination can be your total go-to.
Printed Mens Kurta
Wish to look absolutely out and fresh for anything to you come across, then printed kurta should be your first choice. These kurtas are available in vibrant colours and patterns that pop out. Floral print kurtas have become very popular lately. Being subtle with little or no embroidery, it is a great choice for men who like to keep it minimal yet fashionable.
Plain Kurta with Floral Jacket
Since florals are totally in fashion, a jacket on your regular plain kurta is just what you'll need to up your game and transform a simple outfit to an ace one.
Bandhgala Suit
An Indian name for a Chinese-collared suit, the bandhgala suit is often opted for by the dhula. And hip-length bandhgala suit paired with jodhpuri pants or plain trousers completes the look. Floral print bandhgala suit is the latest trend among men.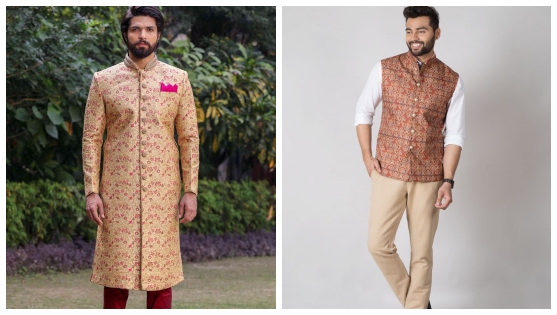 Achkan
Achkan Sherwanis are simple sherwanis with a button placket in the front. Nowadays, you can find sherwanis with contrast button style. Even though the buttons are small part of the outfit, you can experiment with button design, shape, colour or the fabric used to cover them.
Asymmetric Sherwani
This style has been popularfor quite a time. The sherwani with asymmetric collar and slit gives a bold and classy look. It enhances the mans torso part and makes him look confident about himself. The sherwani are made from heavy fabrics which is suitable for grand events.
Indo-Western Sherwani
For the men who are sceptical about ditching their modern attire and hopping into a absolute Indian outfit, this sherwani is for you! With the correct combination of comfort and fashion, these sherwanis are the top choice. It has has curved hemline and other details that make it a fusion of Indo-western style.
To add your own style to the attire, you can try a few combinations and mixing them to get a perfect outfit ready. Although plain kurta are the safest option for men, it helps to try something different to discover what else suits you. Take some inspiration from leading style icons or popular celebrities. Without limiting yourself to just suits and bottoms, try some accessories such as turbans, dupatta, mala, brooch or jootis.