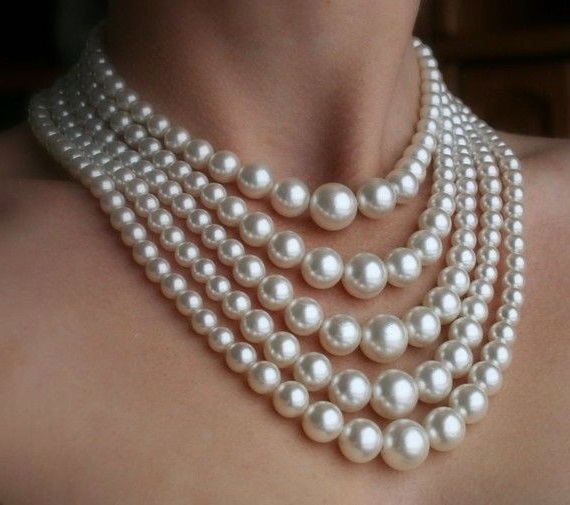 No person wants to wear damaged or unpolished looking ornaments thus they try to repair it by themselves or ask jewellers to make them look like new jewels. When pearls get damaged, chopped or lose its lustre it will be quite difficult to regain its earlier beauty. Thus, the best way is to take right care of your pearl ornaments to be safe from damaging your valuable pearls.
Here are few useful methods to take care of your pearls
Don't ever bring your pearl jewelry in direct contact with hard surface. Pearls are known to be the softest gemstone, thus easily get scratched or chipped. Even while keeping them safe; it is best to place them on soft material before putting in the jewel box.
While wearing the pearls set be quite careful not to drop them or rub them against anything. This is because the surface of the pearl will lose its shine. While using spray perfume, cosmetics, make sure to keep pearls away from chemical substances.
Jewellers give advice to their customers to avoid using pearl ornaments while cooking food. Pearls can be affected by the acidic quality of the vegetables and citrus fruits like lemon. Even using baking ingredients may harm pearls.
Expert jewel makers suggest not to subject pearls to extreme heat. This is because there are chances of pearls becoming brittle.
Pearls like any other gem stones need to be cleaned regularly to maintain its shining quality like new pearls. You just need to wipe them with soft muslin cloth to remove the dirt accumulated in the ornament. You should not need to use rough materials to clean them like tooth brushes or twigs to remove the dirt in the clasps holding the pearl gemstone. It will be effective to clean them using light composed organic liquid detergent while soaking the pearl in water. After a while you can remove and dry the pearls free off any pollutants.
To know more about the right ways to adapt in taking care of your precious pearls check over here the sites of popular jewel makers.