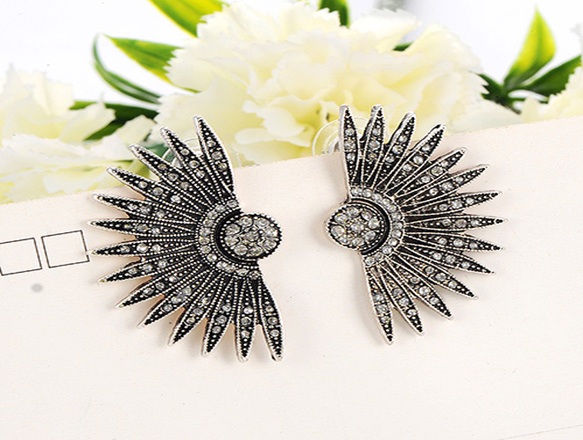 You may be wearing the best dress right now or the latest designer sari but it won't feel complete until you pair it with right accessories. Whether it's a matching pair of statement earrings or an elegant trendy necklace, the right kind of jewellery adds a glamorous touch to your outfit. But when it comes to choosing any one kind, necklaces are the most versatile pieces that go along with any outfit. A spectacular necklace makes a strong statement.
Here's a guide on various styles of necklaces for women to choose from and make heads turn of those looking at you:
Chokers: The 90s fad choker has made a striking comeback and could be seen making appearances on red carpets this season. Choker necklaces are worn around the neck and look amazing when paired with an off shoulder top! They are as well available in different colours and styles so you never run out of options to choose from.
Long Chain Necklaces: These pieces are a fabulous choice to upgrade any plain outfit. You can wear it on a regular basis to glam up your style or even pair it to your evening dress if you don't want to go over the top with jewellery.
Statement Necklaces: You definitely need a statement necklace to make any bland outfit come to life! You can even pair it with distressed jeans and crop top to create a boho look. If you are investing in one for the first time, go for a colour that goes along with all your outfits.
Short Pendant Necklaces: A short pendant necklace is sure to never go out of fashion. Pendant necklaces can bring the 'oomph factor' to any almost any outfit. You can even wear it on daily basis if you like. We all definitely need one in our collection!
Layered Necklaces: Everyone is already aware how sassy these layered necklaces look. You can either go for a minimal piece or choose heavy layered ones depending on your outfit. You can even create your own type by arranging different necklaces together.
Bib Necklaces: These necklaces have a broad front section that cover a part of your chest. They can look edgy when paired with a simple shirt or a slip dress to let your neckline take all the attention. You can as well pair it with ethnic wear.
Kundan Necklace: When choosing accessories for your traditional wear, Kundan jewellery does the right justice to your outfit. It absolutely looks equally amazing with western outfits as well. Pair the neck piece with matching Kundan earrings to achieve more dramatic look!
Look no further than these statement pieces to give flair to any outfit. If you are missing out on some of these pieces make sure to get your hands on them ASAP. These necklaces will surely help you achieve your desired look and can be almost paired with any outfit, traditional or western!